BASKETBALL GREATS BRYANT AND GASOL TEAMMATES ON RACEHORSE OWNERSHIP WITH SANTA ANITA'S C.E.O. VERGE AFTER LAKERS FOUNDATION FUNDRAISER
ARCADIA, Calif. (April 24, 2012)—Kobe Bryant and Pau Gasol had a night off Tuesday, but that didn't prevent the two Lakers stars from indulging in some good old fashioned horse trading at Riviera Country Club. In fact, when the Lakers Foundation fund raiser concluded, Bryant and Gasol emerged as ownership partners on a Thoroughbred gelding named Siempre Mio, courtesy of Santa Anita C.E.O. Mark Verge.

"I decided to offer a 25 percent stake in the horse, along with A Day at the Races, as a live auction item," said Verge. "What ended up happening was that Kobe and Pau got into a bidding war and Kobe finally outran Pau at $8,000.

"All of the money that was donated last night will go to benefit the Lakers Youth Foundation and Santa Anita is proud to support their programs," said Verge.
Gasol, a native of Spain, was apparently enamored with the horse's name.

"Translated, Siempre Mio means 'Always Mine.' I decided that since Pau was bidding with interest and he really did give it the old college try, I'd donate another 25 percent to him as long as he made a separate donation to the Lakers Foundation. So now, Kobe and Pau own 50 percent of Siempre Mio, with no expenses, for the rest of the year."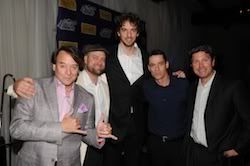 A 4-year-old California-bred gelding by Dixie Union, Siempre Mio broke his maiden by 2 ¼ lengths when running for a $20,000 claiming tag on March 31. Ridden by Joy Scott, Siempre Mio is trained by Doug O'Neill and owned by Verge's Westside Rentals.com and (Santa Anita Vice President of Sales and Marketing) Chris Quinn.

"We've already had a lot of fun with this horse and now, with Kobe and Pau involved, this is really awesome," said Verge. "He's in good form. He just broke his maiden and now we'll just look for a place to run him at Hollywood Park. Hopefully the Lakers are still going in the playoffs and they'll be here at home so everybody can watch him run."

Although Tuesday's auction results appear to be a Lakers first, the Sport of Kings is certainly not new to purple and gold management as owner Jerry Buss has owned several horses along with his partner Frank Mariani over the years. Jerry's son (Lakers Executive Vice President, Player Personnel) Jim Buss was a licensed Thoroughbred trainer for a number of years in California.

"We look forward to hosting the Lakers family and having them experience what we consider to be the most beautiful racing venue in the world this fall. (Lakers announcer) John Ireland emceed the auction last night and he said he's looking forward to taking us up on the offer. We'll name a race for Kobe, introduce everyone to our Arcadia Suite, which is trackside on the Club House turn, and arrange a couple of carriage trips to the starting gate. Hopefully everybody will cash a few tickets."

Santa Anita's 2012 Autumn Meet will begin in late September and be highlighted by the Breeders' Cup World Championships, which will be run Nov. 2 and 3. For more information, visit www.santaanita.com, or call (626) 574-RACE.
--30--