ENTRIES TAKEN FOR $250K LUCK PICK SIX, ONE DOLLAR WAGER FEATURES THREE CAL-BRED STAKES, 10TH ANNUAL SUNSHINE MILLIONS TAKES PLACE JAN. 28
ARCADIA, Calif. (Jan. 22, 2012)—Entries were taken Sunday at both Gulfstream Park and Santa Anita for Saturday's $250,000 guaranteed (HBO) LUCK Pick Six, which will begin with Gulfstream's eighth race and include three $100,000 California-bred stakes; the Sensational Star (4th race), the Crystal Water (5th race) and the Valentine Dancer (6th race).
The LUCK Pick Six will have a one dollar minimum wager and the entire pool carries a mandatory payout proviso.
Santa Anita will have a special early first post time on Sunshine Millions Day of 12 noon and the LUCK Pick Six will get underway from Gulfstream at approximately 1:10 p.m.
Past performances for all six races will be available throughout the week at www.dailyracingform.com.
Here is Jon White's official morning line for all three "LUCK" races to be run at Santa Anita: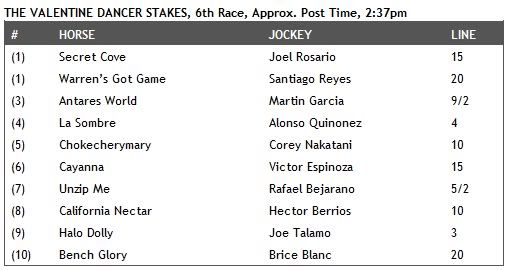 For more information on Sunshine Millions Day, Jan. 28, and the $250,000 guaranteed LUCK Pick Six, go to www.santaanita.com or call (626) 574-RACE.
--30--